The base of the farm is located in the middle of the Samoggia valley, in Tintoria, from which it takes its name. It is 1 km away from Savigno ("City of truffles") and 6 km away from the chief town Castello di Serravalle ("City of wine").
The countryside arises to visitors as extremely diverse, not only for the production aspect, but also the landscape.
In the downstream part of the holding, there is the torrent Samoggia that delimits the south east part, with the fluvial park on the boundaries where you can find the mill La Crolla; it is an old rural building that during the middle of the XIX century used the strength of the water to select the seeds, and now it is under renovations
In this flat area of the farm the fields are meadowland and orchards; especially cherries (Duroni di Vignola), plums, apricots, peaches and old variety of apples that are used for the production of conserve and jam.
We use the available vegetables during the current season for the preparation of the dishes of the restaurant.
Upstream of the road and near the farm building, in the hills at the feet of the characteristic "calanchi" (badlands), you can find a true natural oasis with an oak grove, a small lake and a natural truffle-ground.
These places are ideal for walks, where with a little luck you can admire, wild animals like hawks, buzzards and deer.
Going back to the centre of the farm you can go through the vineyards, where the D.O.C (origin and quality controlled) wines of the Colli Bolognesi are obtained, like the Pignoletto.
To complete the cultivations of the farm there are the fields of grain and the forage. All of the farm is conducted with the methods of integrated pest management.
small-azienda2
small-calanchi
small-campi1
small-campi2
small-esterno2
small-esterno4
small-esterno5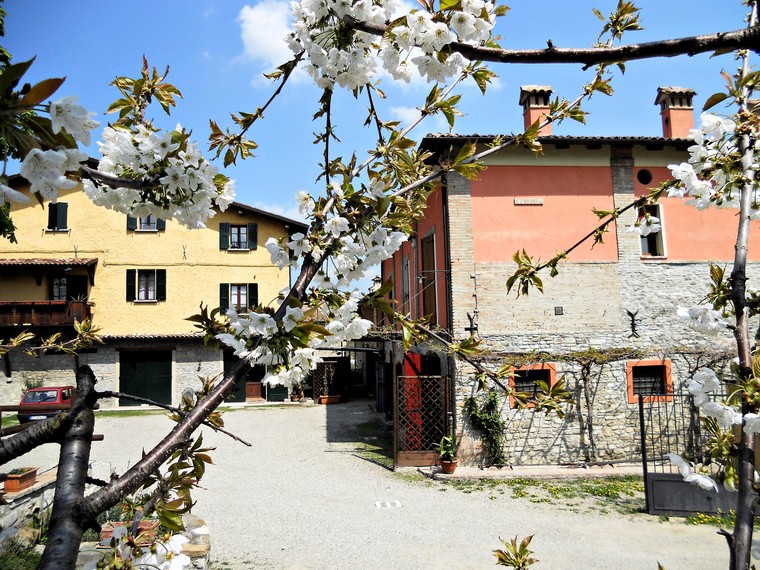 small-esterno6