The strength of the Agriturismo is the restaurant, that faithfully follows the local traditions.
It proposes typical dishes of Bologna and the surrounding area, reviewing old recipes to rediscover tastes of the past. All this is possible thanks to the direct growing of the product in the farm.
In an ancient, warm, and relaxing environment, the guest can enjoy and taste the typical products of the area and the products of the agriturismo.
The menu proposed and suggested changes with the seasons and the availability of the products. Doing so, we always try to offer fresh dishes and with high quality products.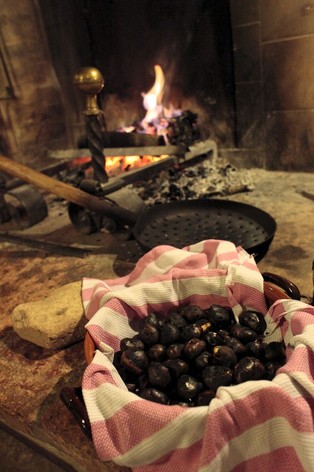 Alcuni nostri piatti
Starters:
Salumi (various kind of cold meats and salami), vegetables in oil, toasted polenta, mini fried crescentine ( flat bread from Bologna and Modena to be fried in pork fat), omelettes with vegetables, crescenta (special flat bread)
Traditional first course:
tortellini in broth (small egg pasta navel shaped filled with lean pork, eggs, Parmesan cheese, Mortadella, Parma Ham and nutmeg), passatelli in broth ( pasta formed of bread crumbs, eggs, grated Parmesan cheese, and nutmeg), pasta with beans, tagliatelle with bolognese sauce, ricotta cheese tortelloni (stuffed pasta like tortellini but larger) with butter and sage, tortellacci with herbs and walnut sauce, potatoes gnocchi, strichetti (egg pasta) with bacon and chards, spelt soup, squash ravioli, lasagna
---
First course with mushrooms and white truffle:
Tagliatelle with mushrooms, tagliatelle with truffle, ricotta cheese tortelloni (stuffed pasta like tortellini but larger) with truffle, polenta with mushrooms, polenta with melted cheese and truffle
Traditional second course:
roasted rabbit, tigelle (small round flat bread baked in special dies) and crescentine (flat bread from Bologna and Modena to be fried in pork fat) with various kind of cold meats and salami, petroniana (Bologna traditional cutlet), grilled meat mix, small escalopes, saddle of pork
---
Side dishes:
fresh season vegetables, grilled vegetables, baked potatoes, zucchini and tomatoes parmigiana
Desserts:
traditional tarts, custards, season fruits, gelato